About
---
More than 50 years ago, two northern California mountaineers came together with a vision of un-compromised excellence. Their inspired dedication and persistence built the foundation that we stand on today and that vision is made reality. A dedicated search for the finest raw materials, meticulous design and unsurpassed workmanship have come together to provide you the highest quality sleeping bags available anywhere. With an offering of over 30 different models, Western Mountaineering can provide you a sleeping bag for any event, outing, or expedition requiring the lightest and warmest bags.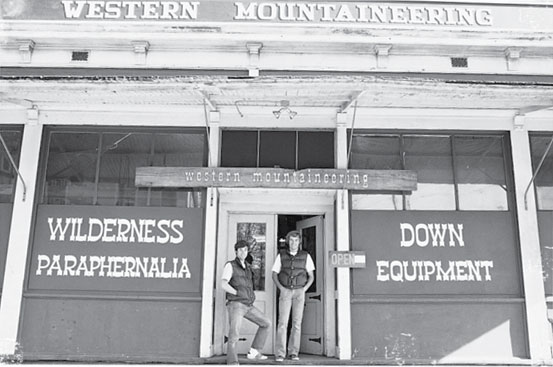 Our history is more than just two young men building sleeping bags. Today we still remain a small independent company. We are responsible for and in control of ourselves and hold true to our roots. We are a "hands on" company, with an owner that still comes in to the factory every morning. All WM products are driven by a personal commitment to excellence and they remain true, fair, honest and the best. We make all of our sleeping bags in our factory in San Jose and are here to give our customers the quality they want with Made in USA pride.
Sourcing Commitment
As a manufacturer of products which are filled with goose down, we are very concerned for the welfare of all geese that provide the insulation that is ultimately used in our products. The down we purchase does not come from geese that have been live-plucked or subjected to force feeding. We have a unique direct contact in Eastern Europe which sources our plumage from a mother goose farm. This is a location where the geese are raised for breeding as opposed to strictly being raised for poultry. This means that their life span is much longer and they do not live their life in confinement or cages. These geese have relatively little interaction with humans on a day to day basis since the plumage is gathered from their nesting area while the geese are out on other parts of the property. We take the time to visit both the farm and the processor, and have always found the geese to be in good health, with a clean, covered nesting area on a large rural property with a stream and several ponds.
Water Repellent Down
In recent years technology has emerged for treating down to make it more water resistant than it already is. We are in the process of conducting our own long term testing on goose down which has been treated with a "water repellent" finish. While we remain hopeful that the technology will prove to be useful, our products are designed to last a long time. For this reason we feel that further testing is needed before we can determine how these treatments perform over many years or decades. The down we use can last a quarter or a half century, and at this point we haven't seen any product which can match the amazing longevity and performance of our pure and naturally harvested goose down.
---