Materials
---
Why We Choose Down
Since our beginning, Western Mountaineering has always felt that high fill power goose down is the best insulation material available. This natural fiber, while highly variable in nature, provides more warmth per ounce than any other material. Down's unique structure is responsible for its tremendous ability to trap warm air. Its filaments are divided and sub-divided to reach out into its surroundings to create a dead air space that slows the movement of warm air. By its very nature, a down filled sleeping bag is as much as 35% lighter than its synthetic counterparts. It is more compressible than synthetic insulations and provides the most warmth with the least bulk. Down also is known to have the greatest longevity, and it will outlast any other insulation by 3 to 5 times, making it the most economical choice after its initial investment. Down sleeping bags drape luxuriously over the body and ensure good coverage and warm contact. There is nothing else like down.
Fill Power Testing
To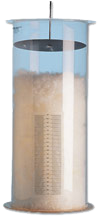 perform a certified test, a sample of down is sent to an independent laboratory. There the sample is placed in a large screened box and allowed to condition for 5 days before being tested. During this time the sample is stirred, mixed, and blown with a warm hair dryer. This conditioning is intended to stabilize the sample so that consistent results may be obtained. Then a 1 ounce sample is drawn and placed into a measuring cylinder. A piston weighted to 68.4 grams is placed on top of the down and when it comes to rest the volume of the down is measured in cubic inches. In spite of 5 days of conditioning, the laboratory will publish their results with a plus or minus 5% error. This is a full 10% range and for an 850 fill test, results in an 80 point variance! Furthermore, conditioning actually improves the sample by drying and blowing out dust and other small particles while the down at the factory remains unconditioned! This is what we mean by an Optimistic fill power rather than a Practical fill power rating. If two bags have the same internal volume, the bag with more loft will be warmer.
If two bags have the same loft, the bag with the smaller internal volume will be more efficient and warmer. If two bags have the same loft and internal volume, but one has a lot more down fill by weight, then check the density of down inside the chambers and the fill power claimed by the manufacturer. Well filled down chambers provide better down control.
850 Plus Fill Power Goose Down
Western Mountaineering uses the highest lofting premium goose down available for all of our sleeping bags. Our fill power claim of 850 Plus is meant to be a realistic estimate given the variability of the product and the nature of fill power test methods. In reality, our certified tests most often are higher than what we claim. This is because the certified test methods provide the most optimistic fill power rating and do not represent what is being put into your sleeping bag. Recently, these testing methods for fill power changed again making the fill power ratings even higher. Now, each sample of down will receive a tumble dry before it is given several days to loft up in a perfectly controlled environment. During that time it is enhanced by using a blow dryer to boost loft. Your sleeping bag will never receive that kind of treatment, and this is why we claim a more practical fill power. Rest assured, we use only the finest goose down available.
Microlite XP™

Our new 20 Denier MicroLite XP™ microfiber reduces the total weights of the bags in this series by 15 to 20 percent! It is the highest threadcount fabric we have ever used with over 400 threads per square inch. We have worked closely with our supplier to develop this new fabric which is highly water resistant, highly breathable, and very light weight. Its hard to imagine a more impressive combination of performance characteristics in a shell fabric.
What Is Microfiber?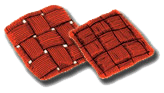 A microfiber fabric is very water resistant because of its combination of high thread count and makeup of dense yarns. Each micofiber yarn has many more filaments than a normal nylon or polyester yarn of equivalent size. Woven into high thread count material, it becomes a fabric that really keeps wind and water out. Since there is no coating or laminate on the material, it is highly breathable. The fabric construction is responsible for weather proofness, it's not something that can wear off, wash out or delaminate. This is the most technologically advanced non-laminated weather resistant fabric available. Look for bags with a microfiber shell if you expect some contact with moisture.
Gore Windstopper™ 830 Fabric

Our Gore Windstopper™ fabric, manufactured by W.L. Gore and Associates, is the most weather resistant/breathable fabric available and provides the ultimate protection against moisture and condensation. The face fabric is a 273 thread count 30 denier fabric that weighs 1.1 ounces per square yard. This is the lightest and most compressible Gore Windstopper™ fabric available and the one with the softest hand. After laminating, it's finished weight is about 1.7 oz. per yard. The breathability of the Gore Windstopper™ membrane reduces the threat of condensation while remaining plenty water resistant for the needs of a sleeping bag. Use Gore Windstopper™ sleeping bags in damp or extreme conditions to prevent moisture from reducing down performance. Some winter conditions may require the use of the Hot Sac™ vapor barrier liner to provide the most optimum performance.
Extremelite™ Fabrics
Our search never ends for the lightest weight downproof fabrics to feature in our special use ExtremeLite™ bags. For these bags we have worked with suppliers to develop extremely high thread count fabrics with ultra lightweight yarns not seen in the sleeping bag market before. These fabrics are constructed from yarns that are 12 denier or finer with up to 420 threads per square inch. Our ExtremeLite™ series features 8 models which weigh between 16 ounces and 2 pounds! These bags are designed for special applications where compressed volume and weight are critical factors. Although some durability is sacrificed with these lighter fabrics, our ExtremeLite™ bags are perfect for the lightweight specialist. Our lightest weight jackets and vests also feature a very lightweight shell fabric. These materials weigh less than 1 oz. per square yard, allowing us to make some of the lightest insulated garments you will find. Extra care should be taken to avoid tearing or abrasion damage to products made with these specialized lightweight fabrics.
YKK Zippers
We use a #5 YKK coil zipper with two dual direction pulls and locking head. This zipper is lighter weight and less bulky than the old #7 zipper. The coil construction has a less abrasive surface in the event of zipper snags and provides years of trouble free operation.
Baffle Material
Pre-cut no-see-um netting is what we use for all internal baffles. This material is firm to prevent distortion, but flexible enough to insure compressibility. It is extremely lightweight and durable.
Water Repellent Treatments
All of our fabrics are finished with a DWR, (Durable Water Repellent) that is rated as 80/20. This is an industry measure of durability that suggests that 80% DWR is retained after 20 washings. In reality this rating is for laboratory test procedure only and is not realistic for home washing.
Abrasion Resistant Taffeta
We use a more durable fabric at the foot sections of our three expedition Gore Windstopper™ bags. This material is woven with heavier yarns so the inside of your bag is protected when you store gear or boot liners at the foot of your bag. The Gore Gore Windstopper logo is a registered trademark of W.L. Gore & Associates. Inc.
---